Harare international airport

Harare International Airport is Zimbabwe's largest airport. Its international code (IATA code) is HRE. Its ICAO code is FVRG. It is the one that appears on your luggage labels when you take a flight to Zimbabwe.
It was in the late 1940s that the government of what was then Southern Rhodesia considered the construction of a new airport in Harare (then called Salisbury). The infractures at Belvedere airport had become unsuitable for the traffic of civil aircraft. In 1949, a land was purchased for this construction.
In 1951 the works were able to start and from September 1951 the first track was completed. All the works should have been completed in 1954 but it was finally on February 5, 1957 that the official opening to the traffic took place.
On November 9, 2017, Harare International Airport was named Robert Mugabe Airport in Harare in honor of the President and Heroe of Zimbabwe Independence. Located 1490 meters above sea level (4887 feet), it is one of Africa's most high-altitude airports. Its main runway measures 4725 meters (15,500 feet). Harare International Airport is the hub of Zimbabwean airlines Air Zimbabwe and FastJet Zimbabwe.
| | |
| --- | --- |
| | The reception of departing and arriving travelers makes of Harare International one of the nicest airports in Africa. Accessible sanitary facilities, shops, parkings, bars and air-conditioned halls allow passengers to wait for their flight in the best conditions. With a flight punctuality greater than 90%, the Harare international airport will guarantee a seamless aerial experience ! |
| | |
| --- | --- |
| | In order to facilitate your trip, we advise passengers to take all necessary measures to be in compliance with sanitary, custom and administrative requirements (passport, visa, etc..). |
Check the flight display board for arrivals and departures at the Harare airport. Stay informed of delays and cancellations bookmarking this page :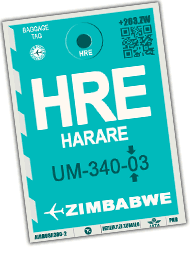 Log in
Contact us

About

2015-2019 Harare-Airport.com.