Visa requirements *
Visa-exempt foreign nationals (up to 3 months): Angola, Antigua and Barbuda, Aruba, Bahamas, Barbados, Belize, Botswana, Cayman Islands, Cyprus, DR Congo, Eswatini, Fiji, Ghana, Guinée, Grenada, Hong Kong (6 months), Jamaica, Kenya, Kiribati, Lesotho, Madagascar, Malaysia, Malawi, Maldives, Malta, Mauritius, Montserrat, Mozambique (30 days), Namibia, Nauru, Saint Kitts and Nevis, Saint Lucia, Saint Vincent and the Grenadines, Samoa, Seychelles, Singapore, Solomon Islands, South Africa, Tanzania, Tonga, Trinidad and Tobago, Turks and Caicos Islands, Tuvalu, Uganda, Vanuatu, Zambia.
Nationalities eligible for visa on arrival: nationals of these countries can obtain their visa on arrival: Albania, Algeria, Andorra, Argentina, Armenia, Australia, Austria, Azerbaijan, Bahrain, Belarus, Belgium, Bermuda, Bhutan, Bosnia And Herzegovina, Brazil, British Virgin Islands, Brunei Darussalam, Bulgaria, Burundi, Canada, Cape Verde, Chile, China, Comoros, Cook Islands, Costa Rica, Croatia, Cuba, Czech Republic, Denmark, Dominican Republic, Ecuador, Egypt, El Salvador, Equatorial Guinea, Estonia, Ethiopia, Finland, France, Georgia, Germany, Gilbraltar, Greece, Guam, Guatemala, Guyana, Haiti, Honduras, Hungary, Iceland, India, Indonesia, Iran, Ireland, Israel, Italy, Japan, Kazakhstan, Korea (South), Kuwait, Kyrgyzstan, Latvia, Liechtenstein, Lithuania, Luxembourg, Macao, Marshall Islands, Mexico, Micronesia, Moldova, Monaco, Netherlands, New Zealand, Nicaragua, Norfolk, Mariana Islands, Norway, Palau, Palestine, Panama, Papua New Guinea, Paraguay, Peru, Poland, Portugal, Puerto Rico, Romania, Russia, Rwanda, Samoa, San Marino, Sao Tome And Principe, Senegal, Serbia, Slovakia, Slovenia, Spain, Suriname, Sweden, Switzerland, Tajikistan, Turkey, Turkmenistan, Ukraine, United Arab Emirates, United Kingdom, United States Of America, Uruguay, Uzbekistan, Vatican, Venezuela, Virgin Islands.
Nationalities eligible for e-Visa online:

Afghanistan, Anguilla, Bangladesh, Benin, Bolivia, Burkina Faso, Cambodia, Cameroon, Ivory Coast, Central African Republic, Chad, Colombia, Congo Brazzaville, Korea (North), Djibouti, Eritrea, Gabon, Gambia, Guinea-Bissau, Iraq, Jordan, Kosovo, Lao People's Democratic Republic, Lebanon, Liberia, Libyan Arab Jamahiriya, Mali, Mauritania, Mongolia, Montenegro, Morocco, Myanmar, Nepal, Niger, Nigeria, Oman, Pakistan, Philippines, Qatar, Saudi Arabia, Sierra Leone, Somalia, South Sudan, Sri Lanka, Sudan, Syrian Arab Republic, Taiwan, Thailand, Macedonia, Togo, Tunisia, Viet Nam.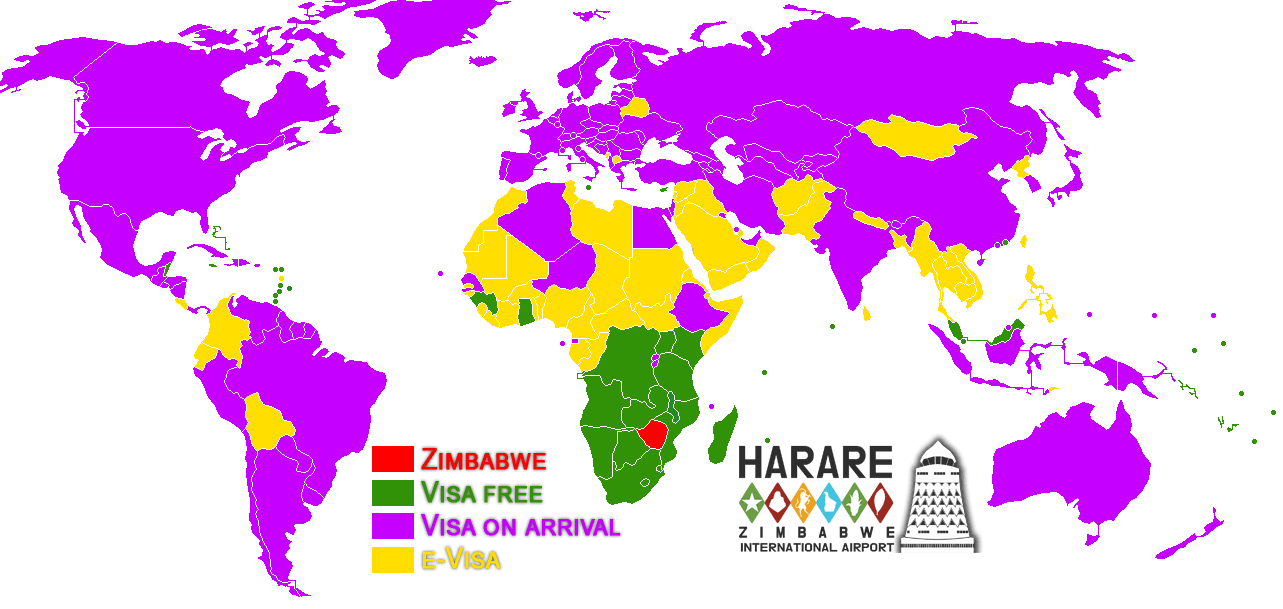 Note: a passenger who does not have Zimbabwean identity papers (passport or identity card) is considered as a foreign passenger even if he / she has a multi-citizenship and must therefore be in possession of a visa .